23 Thrilling Reasons to Study Medicine in Europe in 2023
Have you ever considered living in Europe and becoming a top expert in the medical field at the same time?
Europe will provide you with modern education recognised in the UK, the US, Canada, Australia, and worldwide.
Europe has a profoundly long and rich history. You can feel it wherever you go! The cultures, cities, food, technologies and especially medical education are all incredible! With each passing year, more and more people go to the EU to study medicine to become doctors and excel in the medical industry, have a bright future ahead of them, and contribute to the betterment of humanity.
Here are 23 reasons:
Europe has a rich history and culture
Europe has a very vivid history filled with technological advancements and artistic freedom. It has always pushed humanity forward and produced many experts who have forever changed how we see the world. It has outstanding cities, technologies, philosophies, literature, medicine, economics, and more. Many people choose to come to the EU to study medicine. Why? Because Europe provides an excellent education with affordable tuition fees and great career development opportunities for anyone who comes here.
You have the opportunity to study in English!
More than 100 European medical universities have programmes that are taught in English. This welcomes many international students and allows you to study anywhere you want in Europe!
See our extensive list of English-taught universities here.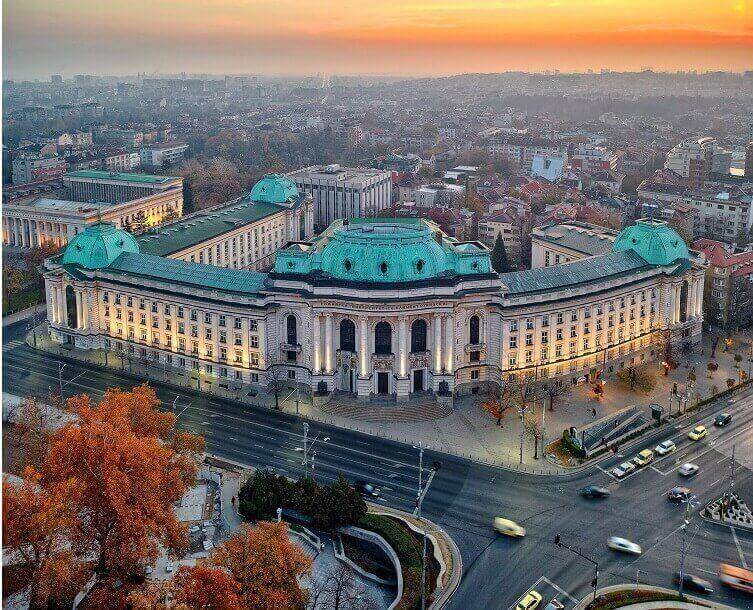 Studying medicine has a lot of practical benefits!
By studying medicine, you will have diverse career opportunities worldwide! Doctors are highly demanded and respected professionals. You will help people, alleviate their pain and potentially save their lives. Along your way to the top, you will meet like-minded people from all over the world who strive to become experts just like you.
You will be working in a dynamic, innovative field, and you will gain a variety of skills which you can apply in real life. For example, you will learn to be calm under stress, work in a team, what to do in an emergency and many more skills that you will apply in any situation in your personal or professional life!
You can study in prestigious schools with affordable tuition fees!
Tuition fees for medical education in Europe are very low, especially if you compare them to universities in the UK, USA or Canada. Education in Europe is already very affordable, but you can find insanely low tuition fees in the Eastern part. For example, in Georgia, they start at only €4400!
You can get top-tier clinical training
The medical schools in Europe place a strong emphasis on practical training and include between 2 and 4 years of clinical experience in their curriculum. Having experience with real-life patients is an invaluable asset to any aspiring healthcare professional.
The best part is that you'll be supervised by experienced doctors, ensuring that you receive guidance and mentorship, which will help you develop the skills and knowledge necessary for a successful medical career.
Low living costs
Your living expenses depend on where you are. Typically, your monthly living expenses wouldn't exceed €1000 if you live in Western countries or €500 if you live in Eastern countries.
Although renting a 1-bedroom apartment in the West would cost you around €1200, renting an apartment of the same size in the East will cost you around €600.
Top medicine programmes
Europe has been home to some of the oldest medical universities in the world, like the University of Bologna in Italy, which was founded in 1088, or the Jagiellonian University Medical College in Poland, founded in 1361! Their programmes have withstood the test of time, and no little detail has been overlooked.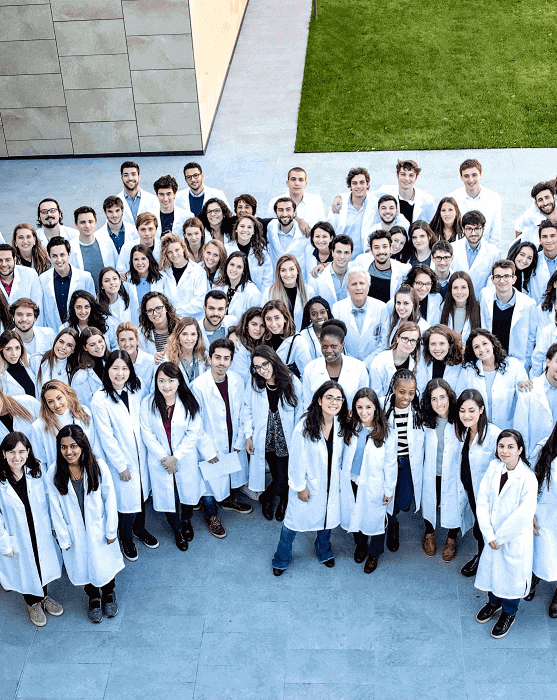 Graduate entry options
You can opt for a graduate entry course if you have a previous health-related degree, such as biomedical sciences or nursing.
The European graduate programmes enable you to skip the first few years of a conventional medical or dental degree. So instead of 6, you could study for 4 or 5 years!
Medical degrees are recognised all over the world
Europe produces some of the best specialists globally, so it is only natural that European medical degrees are respected. Organisations like the General Medical Council in the UK and the Americal Medical Association in the US also acknowledge all of the medical diplomas in the EU as being first-class!
Free access to the best online academic libraries!
Most universities provide students free access to the best online academic resources like JSTOR. This means you can study and read the best academic literature from the beginning of your course!
Accelerated studying
Usually, to become a doctor in the USA, you will need 11-15 years of studying and medical training combined. Thanks to an advanced studying system, you will only need 6 to 4 years in Europe!
Advanced teaching system - combining theoretical and practical knowledge
You are guaranteed to become a specialist because of this proven teaching system. You will gain the essential knowledge you will need during your medical education in the first 3 years by studying theoretical subjects like Human Anatomy, Pathology, or Biochemistry. Afterwards, you will apply the skills you have learned by assisting doctors in hospitals and other health institutions. Combined, they will help you memorise, reinforce, and master your skills faster. Hence, you will be fully confident in saving other people's lives after you graduate.
Use some of the best labs in the world!
Learn using some of the best medical facilities to practice your knowledge and skills!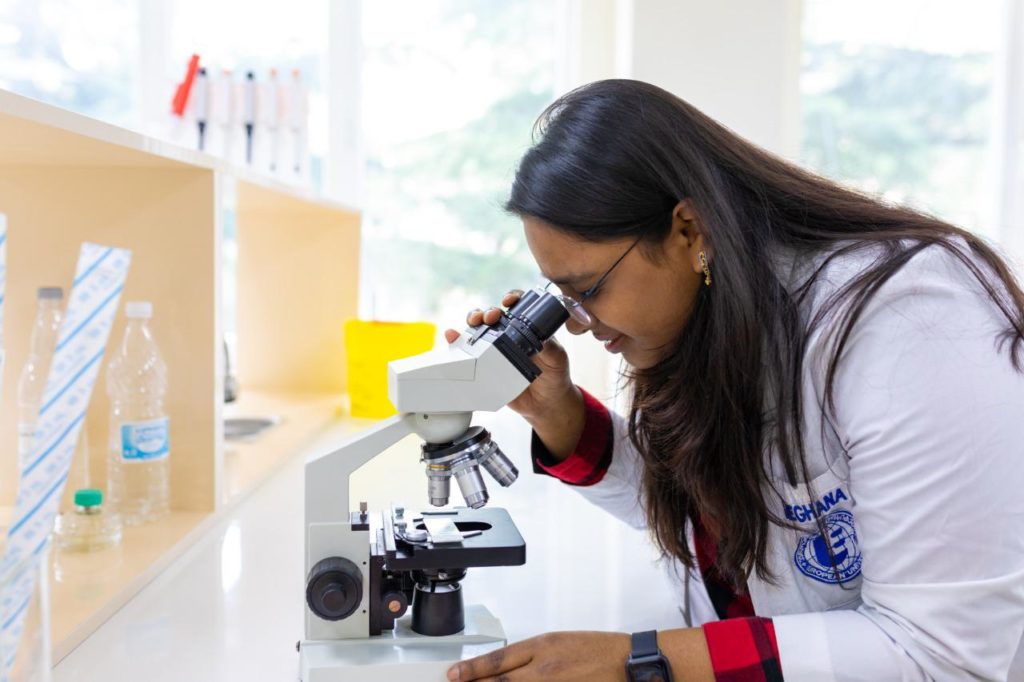 Study online
The theoretical subjects you learn in the first 3 years you can study entirely online via a special programme designed for distant learners.
There are no unnecessary and complicated IQ-like entrance exams
In countries like the UK, to be admitted to medical schools, you have to pass the UCAT. In Europe, all you have to do is sit a general Biology and Chemistry exam and attend a simple interview to test your motivation to enter the field of medicine.
Study without sitting an entrance exam in Biology and Chemistry
In many European universities, for example, in Georgia or Romania, you can apply to medical school without the hassle of an entrance exam. Instead, you are ranked based on your high school science subject grades and English language proficiency.
Research opportunities
The majority of European medical schools also conduct research in various fields, including medicine, dentistry, and pharmacy. Universities often also give students the option to participate in research opportunities both domestically and internationally.
This will not only give you the chance to personally help the advancement of your field of study, but will also look absolutely stellar on your resume.
Travel anywhere within the EU with a Schengen visa!
Besides studying wherever you want in Europe, if you get a Schengen student visa, you can travel freely across all of the 26 countries that participate in the Schengen area –
Austria, Belgium, Czech Republic, Denmark, Estonia, Finland, France, Germany, Greece, Hungary, Iceland, Italy, Latvia, Liechtenstein, Lithuania, Luxembourg, Malta, Netherlands, Norway, Poland, Portugal, Slovakia, Slovenia, Spain, Sweden, and Switzerland.
Excellent career and graduate prospects
Most students succeed in finding a relevant job and begin developing their careers in just 6 months after graduating! Over time, as you progress and become more experienced, your salary also starts growing drastically.
Transfer to other medical universities
You can easily transfer to another university anywhere in Europe if you are unsatisfied with your current university. You can transfer into the next semester of a medical programme at a different university without losing out on a whole year. Learn about university transfers here.
Study in some of the best universities in the world!
We have a big list of universities to which you can apply. Look at the universities here.
We will help you get guaranteed admission
When a student applies to study at a medical university, besides helping them pick the right one for them personally, we also help them prepare for the entrance exams.
Receive a free consultation from us
You will get a free consultation with a professional who will help you choose the best university by contacting us to start your medical journey.
Article written by Dr Sam El Mais

Dr Sam El Mais, MD, MSc, BSc, graduated from a renowned medical school in Romania in 2019. He uses his professional knowledge and personal experience to guide students on crucial aspects such as university selection, admissions processes, and cultural adjustments.

Get FREE Advice from Expert Student Advisors Now
Learn about your options abroad INSTANTLY
Advice tailored to your specific requirements
10+ years of experience in student consulting
Medlink Students specialises in guaranteeing students' admission into top medical universities in Europe. Trusted by 1000s of students every year, we provide support from your initial enquiry until graduation, and beyond. Contact us now to learn how we can help YOU.

Share this article with 1 click:
About Medlink Students
Leading international recruitment company for medical students in Europe. British Council certified. 10+ years of experience and more than 10,000 students advised.